2018 'Estate' Pinot Noir
Biodynamic ∙ Organic ∙ Vegan
Our Estate Pinot Noir is always a wine that needs time to show its true colours. It is made for the long haul, with ample tannin and acidity as well as fruit density to last the distance. Densely packed layers of aroma on the nose, with a strikingly intense palate, are supported by especially vibrant and luscious fruit notes and fine tannin structure. A wine that will continue to open and grow with time in the bottle.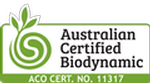 Awards & Reviews
95 points - Jeni Port (Halliday Wine Companion)
A rocking, rolling, fruit pastille-charged, filigree-fine pinot noir from a winemaker who always delivers. An upbeat entry with small red berries, toasted spice, orange rind aromas. Class act throughout from the tight coils of concentrated fruit and supple, even-handed tannis to smooth-knit oak. With texture and presence. Screw cap 13% alc.
Variety: 100% Pinot Noir
Vineyard: Estate-Grown single vineyard, Derwent Valley
Vineyard management: 100% Certified Biodynamic
Geology: Mix of two terroirs, grey gravelly loams over clay and red loam over gravel
Cellaring: 10+ years