2019 'Collina' Chardonnay
Biodynamic ∙ Organic ∙ Vegan
The 2019 Collina Chardonnay is our 7th release. It is not made in years where we believe the quality is not there (these are becoming less frequent), or when the Collina robs quality from the Estate Chardonnay, which is something we won't stand for.
Winemaking is simple, straightforward, almost a secondary notion. Vineyard attention to detail paramount. Grapes are handpicked in the cool of the day to arrive at the winery, 200 metres away, in perfect condition where they are hand sorted and whole bunch pressed to tank. Hard pressings go to brandy production on site. Sometimes a small amount of sulphur is added prior to decanting to barrel for natural fermentation. The wine ferments in the underground cellar at between 16 to 22 degrees celsius usually with no cooling, depending on the yeast strain we get that year. After ferment we inoculate for malolactic fermentation (MLF) otherwise it never happens with the low pH and cold cellar we have. MLF is an important part of our style and we are lucky we can do it with never needing to add acid.
We make our Chardonnay like the wines we like to drink, we don't follow trends like early picking for example. We like Chardonnay with delicacy, good natural acid drive, nice evident mid palate weight, good length and a whiff of gun smoke and not too much fresh "Chardonnay" character. More minerality rather than fruity.
The Collina is often quite closed when young and needs a few years to start looking its best.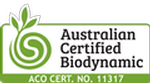 Vineyard blocks: 100% estate grown & single vineyard
Geology: Grey gravelly loams over clay
Vineyard management: 100% certified biodynamic
Cellaring 10 years