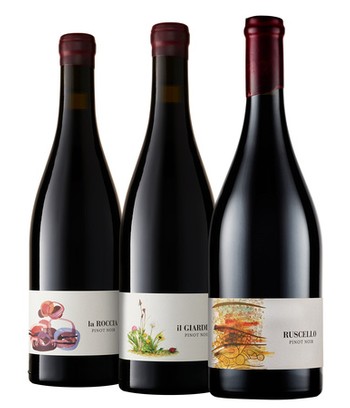 2017 Single Block Pinot Noir Mixed Pack
Biodynamic ∙ Organic ∙ Vegan
Variety: Pinot Noir 100%
Vineyard: Derwent Valley. Single Vineyard.
Vineyard Management: 100% Certified Biodynamic
Geology: Mix of three terroirs, grey gravelly loam over clay, mix of black clay & grey gravelly silt with clay under and classic terra rossa of red clay loam over marl limestone
We have spent the last 30 years working on identifying specialized sites on our Granton Estate for the development of an iconic Pinot Noir. This Single Block range has been selected for their specific terrior or soil type to truly express the uniqueness and individual personality of the Pinot Noir variety
Translating to 'small mountain stream' in Italian, The Ruscello block is located near a little creek that runs mostly in winter through the middle of the property. This block produces very generous and feminine fruit, everything that is exquisite, attractive and lovely about Pinot Noir.
Il Giardino translates to 'the garden' in Italian. This block was originally a market garden planted to brassicas when we first arrived in Tasmania in 1990. The heavy, silty black clay topsoil over clay base helps water retention in the block, resulting in vines that have more vigor and wines that have more structure with higher acid and tannin profiles.
La Roccia, or the 'rock' in Italian, is a nod to the main geological feature of this block; a large limestone rock shelf in the middle of the block. The La Roccia block is always first picked and consistently produces wines with the greatest structure and tannin of the three blocks.
Cellaring 10 - 15 years