2018 Amphora 'Amber' Wine
Biodynamic ∙ Organic ∙ Vegan
Picked on the 9th of April and de-stemmed into amphora for co-fermentation. The wine received 20 days of skin contact before being pressed and left in our special egg-shaped fermentation tank for 20 more days after pressing.
Aged in 3rd fill barrels for 13 months before bottling. The wine has a deep golden/orange colour due to skin contact. The wine displays notes of roasted apricot with herbaceous characters on the nose, followed by a rich textural palate of ripe fruit with a herbaceous finish.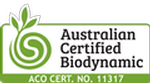 Variety: 100% Malvasia
Vineyard Blocks: 100% Derwent Valley Estate grown, single block.
Vineyard Management: 100% Certified Biodynamic
Geology: Gravelly loam over clay
Cellaring 1-3 years