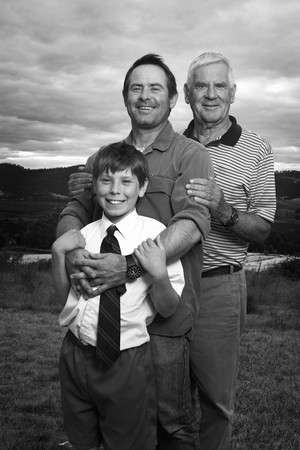 (Marco, Steve and Mario Lubiana 2008)
We are currently Tasmania's only certified Biodynamic vineyard. With two vineyards located in Southern Tasmania - one in Derwent Valley and the other located in the Huon Valley. We have a focus on producing only premium quality Pinot Noir, Chardonnay and, of course, Sparkling wines. Over half of our vineyards are planted in the two great Burundian varietals.
Steve Lubiana, a fifth generation Italian heritage winemaker, hails from Moorook in South Australia. His father, Mario, a post war immigrant from Istria, established Lubiana Wines in the Riverland, South Australia, in 1953. It was always expected Steve would take over his father's business when the time came, but as some young winemakers do, Steve travelled to Champagne for the 1985 vintage. During this time Steve developed his passion for premium quality sparkling wine.
This led Steve and his new wife, Monique, to Tasmania in 1988 on their honeymoon for a scouting trip. A couple of years after this visit they purchased the original 252-hectare parcel of land at Granton. The Granton vineyard was first planted to 2ha of Chardonnay and Pinot Noir during the spring of 1991. Over the years it has expanded to over 18.5 ha of bearing vines, and now includes Pinot Gris, Riesling, Sauvignon Blanc, Grüner Veltliner, Shiraz and Malbec among others. An additional 7ha of Pinot Noir was added during the spring 2010. In spring 2019 a further 1.4ha of close-planted Pinot Noir was established.
After achieving Biodynamic certification in 2013 at the Granton Vineyard, Steve and Monique Lubiana purchased the former Panorama Vineyard at Cradoc, Huon Valley in 2015. This added additional10 hectares of Pinot Noir and Chardonnay. The Huon Valley vineyard is in conversion and will be certified Biodynamic from 2021.
Much to the delight of Steve and Monique their son, Marco Lubiana, has followed in the family tradition by becoming the 6th generation winemaker. After graduating from Adelaide University in 2018, Marco joined the family business along with launching his own label "Marco Lubiana" marcolubiana.com.au.
In 2020 our gravity fed winery located onsite at our Granton Vineyard in the Derwent Valley has the capacity to process up to 300 tonnes of fruit. We produce 10 000 to 13 000 cases of wine annually. While Vintage 2020 has been dominated by a global crisis, we still have managed to produce high quality biodynamic wines. Currently our Vintage team is made up of Assistant Winemaker, Lauren, along with Batiste from France and Leo from Germany, plus the Tasmanian locals of Justin ......and of course Marco, Monique and Steve Lubiana. We look forward to releasing our first wine from vintage 2020 later this year.