2018 'Ruscello' Pinot Noir
Biodynamic ∙ Organic ∙ Vegan
Wine Details
We have spent the last 31 years working on identifying specialized sites on our Granton Estate for the development of an iconic Pinot Noir. This Single Block range has been selected for their specific terrior or soil type to truly express the uniqueness and individual personality of the Pinot Noir variety.
Translating to 'small mountain stream' in Italian, The Ruscello block is located near a little seasonal creek that runs mostly in winter through the middle of the property. This block produces very generous and feminine fruit, everything that is exquisite, attractive and lovely about Pinot Noir.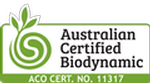 Variety: 100% Pinot Noir
Vineyard: Derwent Valley – single vineyard
Vineyard management: 100% certified biodynamic
Geology: Grey gravelly silt over pourus white gravelly clay.
Cellaring: 10+ years