2021 Pinot Gris
Biodynamic - Organic - Vegan
2021 Pinot Gris Biodynamic is a small parcel of wine but LARGE in flavour. Brimming with pear, rose water, quince & Turkish fig flavours. Finishing with the perfect amount of astringency complimenting the sensational fruit element, leaving a refreshed palate. Slightly pink in appearance this wine is sure to compliment your favourite dish.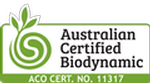 Variety: Pinot Gris
Vineyard: 100% Derwent Valley Estate grown, single block
Vineyard management: Certified Biodynamic
Geology: Mix of grey gravelly loam over gravel and red loam over old riverbed
Cellaring 3-5 years.